On October 26th, FeiyuTech has released a new gimbal -- AK2000C! The AK2000C upends the complex and expensive image of professional camera gimbals in the popular mind. It can be operated no matter you are a professional photographer or a general photographer, realizing zero thresholds for the operation of a camera gimbal. AK2000C is not only highly professional, but also simple and personalized in the design, which presents the unruly and passion of the creator.
AK2000C is affordable, professional and free to capture what you love!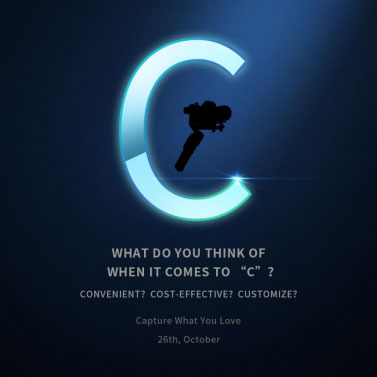 Four highlights to arouse your passion for shooting
Highlight 1--- Affordable and professional
As a handheld gimbal, AK2000C has a payload capacity up to 2.2 kg, and can be adapted to most mainstream mirrorless cameras and lenses, such as A7M3, X-T3, Z7 , and even the combination of lens + DSLR, such as 5D4 in the market. All adjustable modules have arrow marks for easy balancing.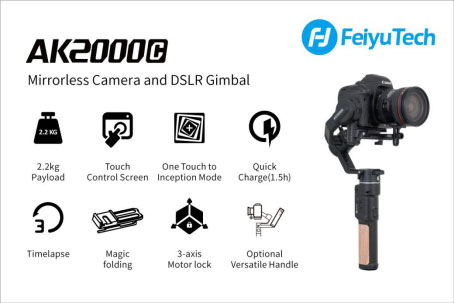 Highlight 2--- Professional anti-shaking performance and 7-hour stable battery life
AK2000C adopts the industrial-leading W7 precision control algorithm, which can quickly offset the dynamic deviation caused by picture flutter to for stable and smooth performance. The battery lasts for 7 hours, and supports boost charging, which can be fully charged around just an hour and a half, and it can be continuously charged in spite of high-intensity work and guarantee the smoothness of the picture.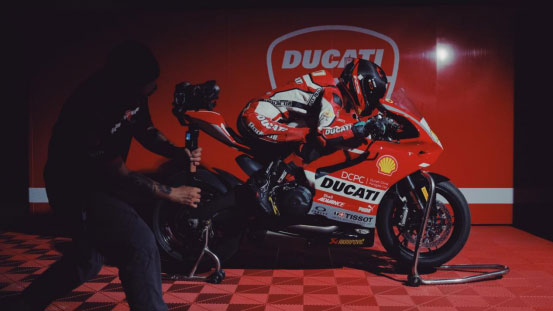 Highlight 3--- Exclusive touch screen design and friendly to novices
The exclusive OLED touch screen of FeiyuTech makes all functions and modes visual. There is no need to use another App to operate, even beginners can use it without barriers. In addition to the regular inception mode and the auto-rotation mode, the track can be set to take time-lapse photographs, and the selfie function and one-key vertical shooting are supported. Moreover, you can adjust the camera's white balance, sensitivity and exposure compensation. The menu logic is simple, which is friendly to beginners.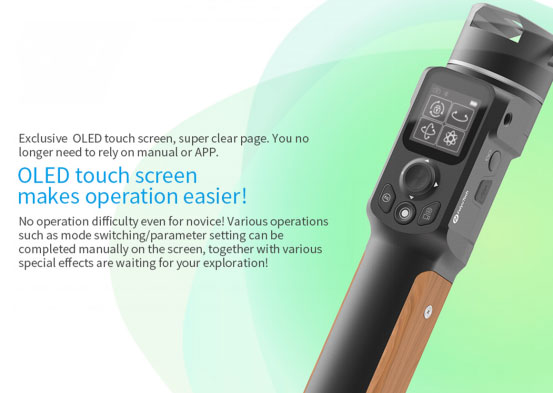 Highlight 4--- Ultra-lightweight and flexible folding
AK2000C is made of aeronautical aluminum alloy with an ultra-lightweight of 1078g. It is designed with a pearwood-grained handle in great texture. Owing to the design of the magic folding of a quick release plate with a three-axis mechanical lock, it is of the size about A4 paper, portable and convenient.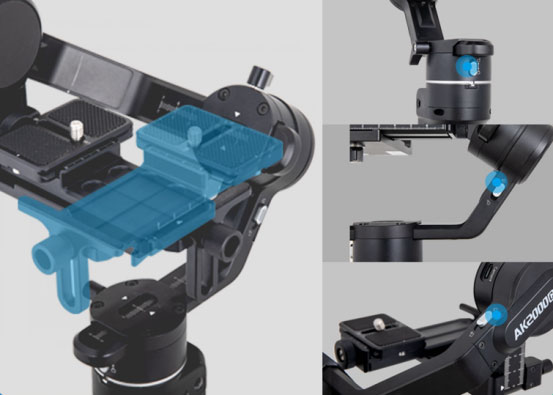 With the increasing demand for video creation, it is hard to find a nice and thoughtful tool for shooting. FeiyuTech has developed the AK2000C upon the tenet of "let the professionalism be within reach and capture what you love". No matter you are a photography enthusiast or a professional video creator, AK2000C can fulfill your shooting creatives!